IN MEMORIAM
IN MEMORIAM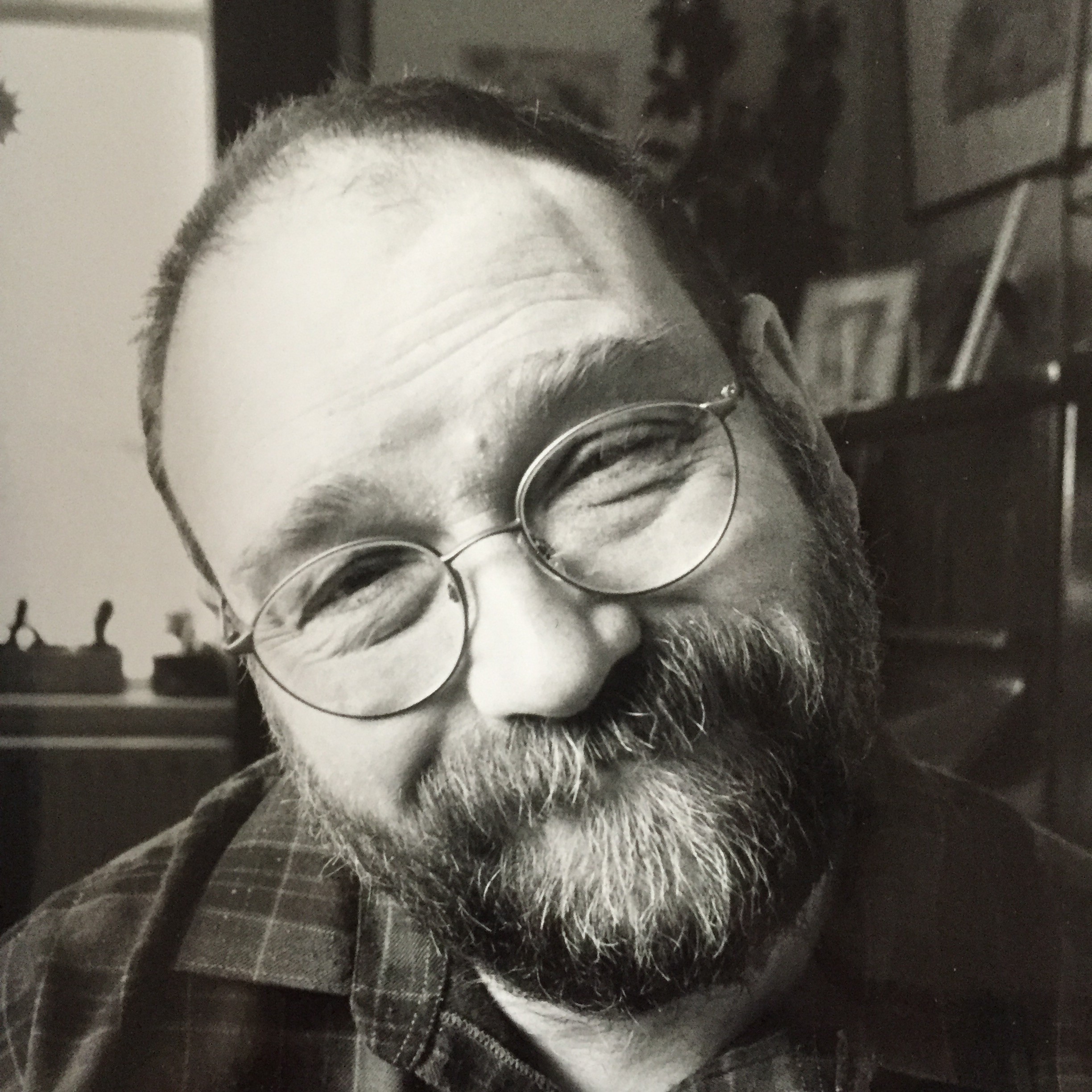 After a long period of illness, on the 11th August 2015 Chris passed away, peacefully at home with his family around him.
In memory of our father we produced a booklet to be given to friends and relatives as a tribute to the love and inspiration he brought to the world. We also asked friends if they had anything they would care to mention about their memories of Chris.
'The wonder of the world, the beauty and the power, the shapes of things, their colours, lights and shades; these I saw. Look ye too while life lasts.' -"BB"
---
Chris was born in London, 1949, and moved to Harrogate in the early fifties with his father's job at ICI. After attending Harrogate Grammar school he was determined to pursue his artistic interests and went to Harrogate Art School. It was during this time that he met Barbara and they've been together ever since. They moved to London together when he was offered a place at The London College of Printing, subsequently returning to Yorkshire where he attended Leeds Polytechnic.
Gen was born in 1969 and over the next few years the family grew with Dan arriving in 1974, David in 1981, and Kate in 1982. A great family man, Chris loved playing with the kids and created many a car, boat and castle out of cardboard boxes. This continued as the grandchildren began to arrive.
In 1974, Chris secured a position as Lecturer in Illustration at the School of Art and Design, Bradford College, where he taught for over thirty years, inspired countless pupils and made many friends.
Chris enjoyed living in Otley, and made many friends. He helped out with community events and causes, from taking food up to the Menwith Hill peace camp to helping to organise charity gigs, often using his talents to publicise events by designing the posters.
Chris was a regular contributor to the New Arcadian Journal since 1986, as well as being a freelance illustrator, specialising in architectural and landscape subjects.
In 1998 he launched the Privet Press, named in recognition of both the private press movement and topiary steam engine that he lovingly sculpted in privet. The train hedge in his front garden became renowned in Wharfedale and beyond!
Chris enjoyed his retirement, which allowed him to spend more time with his family, especially his grandchildren. Retirement also allowed him to continue his own illustration work, including illustrations for The Wentworth Castle Trust, and collaborating on several other projects. At this time his lifelong interest in collecting was able to be indulged, old tin toy vehicles in particular.
Chris will be greatly missed by so many of us, not least those who looked forward to receiving his memorable Christmas cards every year.
He was a fount of knowledge on many subjects, always ready to give sound advice and guidance. Kind, with an absurdist sense of humour he brought great joy, and with his work, great and lasting beauty to the world.
He will always be our inspiration.
---
TRIBUTES FROM FAMILY FRIENDS AND COLLEAGUES
Chris never lost the little boy inside him. He always had a mischievous smile and twinkle in his eye. Sure, he'd moved on from tying worms round the garden fence and carrying a matchbox of dead flies around, but he always had something exciting and interesting on the go. Usually something to do with 1950's cars, trucks, comics and illustrations. An inveterate collector, there was always a new and compelling collection on the go and a trail of small parcels and lucky finds made their way steadily onto his shelves.
He was a working artist and held in high regard by his peers and students. A teacher who could 'walk the walk'; his output was prolific. He created imaginary landscapes, moved buildings around in his pictures to tell a story and he drew us into his world of domestic 'still life'; frequently just capturing what was on the tea table. These drawings were so well observed that you could practically hear the sounds of family life happening around you.
His illustrative work centred on the New Arcadians and his frequent depiction of stately homes and formal gardens led him to develop his trade-mark black and white pointillist style that was unique and required hours of endless patience. We were very proud of him on the occasions when he exhibited his work and were thrilled to attend the openings.
Chris' infectious enthusiasm for everything he did was inspirational. The love he had for his family and the joy he got from his children and grandchildren was very evident and his children have inherited 'the Broughton Curse'; going on to be successful artists and designers in their own right.
Chris we love you. You were a great friend and brother and will be sadly missed.
– Nick, Louise, Holly and Imogen
My Bruvva, or if I really wanted to wind him up – Chrissy Plonks! And we did wind each other up as only brother and sister can.
Chris loved to tease and had a gentle sense of humour. I remember when I was learning to write my name he told me it was spelled Gannet! and a map of England contained the Isle of Lady as well as the Isle of Man!
For as long as I can remember Chris was either playing with his toy cars, taking something apart to see how it worked (a piano for one – that was a popular choice) drawing or, as a teenager, playing his guitar. Activities which he has pursued and enjoyed all of his life with some considerable success. His most successful achievement being created with no little help from Barbara – a wonderful loving and caring family of whom he was inordinately proud.
Throughout my life he has been there as a steady, reliable voice of reason and encouragement. We had many shared interests and there was always something new and interesting to talk about and something more to learn. As well as being a wonderful brother and brother-in-law he was an adored uncle, loved and respected by us all. He will be missed more than words can say.
My lovely, lovely Bruvva.
– Janet, Peter, Lucy & Ruth
I think of Chris as a wonderful person and a dear friend. He will always remain in my mind.
I always thought that Chris was an exceptional illustrator. One of the best. I remember many New Arcadian explorations of gardens with Chris and Patrick. I thought every drawing by Chris was extraordinary, but particularly the overviews of the gardens. He seemed able to hover above the landscape and imagine the space beneath him. These overviews had the brilliant clarity of the London Tube Map combined with the magic of a garden occupied by Rupert Bear. The sense of flying over a space is dreamlike, perhaps with a touch of Dan Dare! Or the Mekon! What I feel is special about Chris's illustration is his ability to transfer the magical imagination of the 'Toy' into the work of 'Art'. This is such a rare quality.
I am fortunate to have access to many of Chris's illustrations and when I look at them I will see his imagination and hear his voice.
– Howard Eaglestone
Thirty years ago we chatted about his first drawings for the New Arcadian Journal. Since then, well over 600 drawings have been published. Among these are a hundred bird's-eye views of particular landscapes – complex, imaginative and wondrous to behold. This extraordinary achievement speaks of his compulsive devotion to drawing, and of his love of landscape, history, place and book illustration – and of Dan Dare, Dinky Toys, Eric Ravilious and Edward Bawden – and of his determination to draw right up to the very end of his life. He considered the final bird's-eyes "a tadge surreal".
Along with the drawings came the intimacy of friendship, the annual jaunts to walk the landscapes engaged by each NAJ, the genteel banter and the reflective conversations – often in Headingley's 'Arcadia' pub.
His commitment to the NAJ also spoke of a great generosity of spirit – as he shared ideas and expertise, and as he prepared for print the drawings of all the contributing artists: bromides in the analogue days, jpegs in the digital. His passing is the end of an era for the NAJ.
– Patrick Eyres
Chris was armed with a gentle voice, a keen pair of eyes, and pencil-sharp fingers, which were never still. No matter what they held: ball point, felt tip, or fountain pen, rarely a day went by without an observation or an experiment was recorded in sketch book after beautiful sketch book!
Then the stories could be told. Many a perceptive student could travel the length of the Norfolk coast from Lowestoft to Cromer… stroll through the grand gardens of the wealthy, with all their follies ….and then ponder the decision of "the Green Tie". All this without a puncture to repair, without getting wet, and without even owning a tie.
There would be a round of applause. Eager faces thumbing through the books and cards at the front of the lecture theatre of a Tuesday evening. So many were inspired. So many were delighted. So many resolved to work harder.
Then off to the pub. We'll miss you fella!
– Ian Taylor
I will always have fond memories of Chris in a number of different contexts. Firstly, for his benign tutorial presence on the Foundation course at Bradford College. He was, I sensed, a dispenser of sound advice combined with his own special brand of humour: generations of students must have benefited from his example.
We all of us, in the wider academic and artistic community, benefited from his own work as an illustrator, especially his illustrations for the New Arcadian Journal. His 'birds eye views' of landscape gardens will always be remembered. While they added to and continued a peculiarly English tradition, at the same time they also possessed a personal and quirky touch.
Chris also struck me as being devoted to his family, children and grandchildren. They will miss him; and likewise, we his friends and ex-colleagues, will also miss his warmth and generosity of spirit.
– Graeme Willson
We first met Chris and Barbara through Yoga classes…
Not that Chris ever went to one. It was because they were cancelled!! We went to the pub instead and the result was that we became good friends. Due to a similar taste in music we started going to see live bands.
Eventually Chris and Richard decided to start promoting their own fundraising events at the Civic Centre and other venues in Otley, putting on local, national and international acts. Their promotional name was the 'Booze Brothers'…and Otley Roots and Blues. Chris produced all the artwork for the posters in his own great style.
We have been close friends for many years, sharing holidays and days out and the mutual interest in music and the arts has continued. He is one of the most talented people we have ever known and we feel privileged to have known him.
Sleep well Chris.
– Janet and Richard McFarlane
Some of our fondest memories of Chris must be those lovely 'gastronomy' nights, usually alternate Fridays, where we'd go down for a few (?) drinks and a meal. Chris would be in and out of the kitchen all evening – coming back into the front room to rejoin the conversations then dashing back to tend to the preparations as necessary.
Sometime around 9.30-ish the call would come "it's ready" and we'd file in to be greeted by the most amazing display of exotic dishes imaginable. There'd be things we'd never heard of, often vegetarian, but of such choice and delicacy that any attempt at restraint was rapidly lost.
Having vowed not to be too late, we'd end up staggering home at about 2am, full, happy and a bit tiddly – only to wake the next morning thinking "how can we possibly equal that?" when it was our turn the following week.
– Phil Greaves
Chris had the great gift of inspiring affection and friendship. Friends warmed in the glow of his company. He approached everything with positivity and energy. His enthusiasm was infectious – whether he was talking about the New Arcadians, metal toys, Batsford books, music or painting. He embraced the new technology early, seeing the artistic possibilities of the iPad – and continuing to produce superb compositions until near the end of his life.
He enjoyed living in Otley. His pictures of the town were shown with great effect at the fine exhibition at the Courthouse. We have a print of the town that Chris drew which has pride of place in our house. His wonderful Christmas cards were a delight to receive.
Chris pursued life with positive energy right up to the last moments. He bore his long illness with fortitude, good humour and concern for Barbara and the children. His resolve remained undimmed despite the debilitating nature of his illness. His death is a deep and great loss to us all. He will long be remembered with fondness and gratitude. May he rest in peace.
– Graham Mulley
Farewell Chris, you've gone to a new arcadia. Meet on the ledge.
– Dave Holmes
My last memory of Chris will be sitting in the garden discussing the work of Eric Ravilious. We both enjoyed the strange stillness to be found in his paintings.
To Chris, I am grateful for the introduction to the wonders of the North Norfolk coast – Wells-next-the-Sea! And to the music of John Martyn; who also left us too soon.
– Garf Jones
Having worked with Chris since 1977 on bradford's foundation course I thought I'd write a bit about the art school experience which we knew and loved.
Each year we took about 75 to 80 students for all disciplines. Chris being a gifted illustrator looked after 25 to 30 illustrators, graphic designers, typographers, animators and printmaking students. He also produced the publicity for the course (5 colour hand cut silk screen prints of which 100 or so went out to all the schools in the area). Chris always designed the end of year exhibitions which were notable for coherent and uncluttered layout which were always praised by parents and students alike.
As a teacher he encouraged students to develop their own style through experiment using a variety of media, collage, photography and drawing which was central to Chris. Students would always be inspired by seeing his A5 sketchbooks. Every year student portfolios were prepared for art schools the length and breadth of the country and Bradford students were well respected and the reputation grew and grew due in no small part to Chris's abilities as an artist and teacher!
On a personal note I remember Chris telling me he and Barbara had visited the Sussex Weald and passed Alfred Bestall's cottage. Despite Chris being an avid collector of (the creator of Rupert for over 30 years) having seen him sitting at a table inside the cottage felt it was too much of an imposition to intrude and they continued walking past. [Editor's note: this recollection was later corrected – it was Chris and Patrick Eyres walking past the home of Edward Bawden in Saffron Walden, Bestall lived in Wales]
– Andrew Griffiths